Vivino: Buy the Right Wine
8.18.32
A Fantastic Wine App
Wine is a cherished drink that can be tried with a variety of different food items and in a variety of different settings. Whether you are sitting in a gathering or are having a party, a great wine can help in setting the overall mood. Selecting the right wine is important in this regard. However, to know which wine would suit which setting, you would have to know about the wine's taste, ingredients, history and overall recommendations of people who have taken a liking to the particular wine. The internet is filled with reviews for various wines but finding a solid community that can truly help you in tracking down a great wine for your collection or for your party, gathering or intimate ceremony is very difficult. A wine app like Vivino can do the trick though with its 9 million plus vibrant community of wine lovers and a wine library that is extensive and accurate at the same time.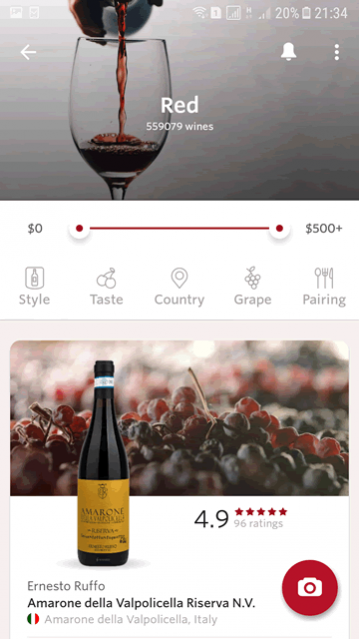 Vivino is a wine app with a very simple and user-friendly interface. The app makes it very easy to browse through detailed information of a wide variety of wines while there is also the option of gathering information about a wine if you upload a picture of it. This is great as this can help you out when you are either at a wine cellar or a wine store and want to know whether this particular wine is worth it or not.
The app has a four-tabbed interface. The first tab shows you the wines that are trending now. However, to be able to look, you would have to sign up with the wine app. This is a great tab for people who are looking to add trendy wines into their wine collection or are looking to impress their guests with one of the trending wines in their parties.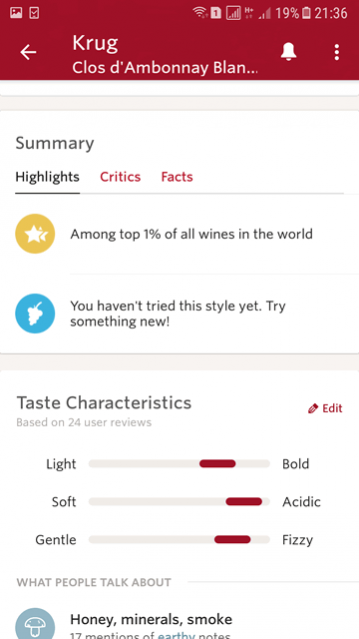 The second tab in the wine app is the Search tab and it is here that you can search for any wine you want and the app would provide detailed information about it if the wine were present in the app's database. The app makes browsing wines very easy. You can browse by type like red wine, white wine, sparkling wine, rose wine etc. Once you have selected a wine type, you can then add further filters as well. You can filter by price, by style, by taste, by country, by grape and by food pairing. You can also browse the wines originally by pairing or by style and then further add filters in order to find the right wine for you. The app also shows popular searches in this section so that if you want to look at what other people search for, you can do that as well.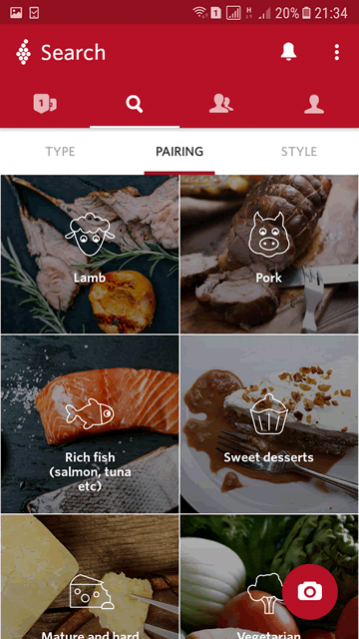 Once you find a wine, the app provides you a lot of information as well as many options. The app provides an information about how well it is rated by the Vivino community while it also tells the average price as listed by the users. You can also look at an approved critic's score as well. You can further know about the highlights of the wine and some interesting facts about it as well. Personal reviews by the users can also be read. You can also look at the taste characteristics of the wine as well as the food pairings with which the wine offers the best taste. You can look at the winemaker's notes as well while the winery where the wine is created is also listed here. The actions that you can take include adding a rating, adding your own price and adding it to your cellar (if you currently have it in your cellar). You can also add it to your wish list for later viewing.
The wine app tries to offer a personalized experience and therefore, the last two tabs are about creating your profile and adding your own distinct reviews and recommendations for other users of the app.
Features:
Vibrant and helpful wine community
A wide variety of wines available in the wine library
Average rating, cost, taste and food pairing information all available about each wine
Conclusion:
If you have a liking for wines then a vibrant community that can help you out in selecting the right wines would be great. Vivino is a wine app that offers you access to a great library and a nice user community and this is why the app is necessary for all the wine lovers.
---
Add a review
Tell us your experience with
Vivino: Buy the Right Wine
8.18.32
RELATED PROGRAMS
Our Recommendations
---
---
---
---